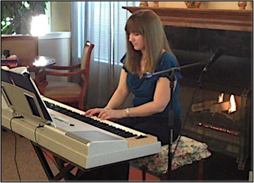 Standard performances include piano solos and vocal arrangements of classic old standards, some interesting facts/trivia about the songs and sing-alongs (large print song sheets are often provided). Also includes the addition of rhythm instruments and props for some songs. For groups of any size. Christmas carol, seasonal, religious and other themes available! Duration: 60 minutes. 
---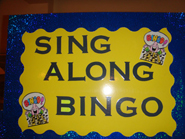 Bingo cards are printed with a variety of familiar song titles instead of numbers as in traditional bingo. Different themes are available upon request. Titles are chosen randomly and the song is named and sung with the piano while players find the square. Singing along is encouraged! The person who gets a complete row calls bingo and wins a small token prize (pack of life savers, notepad etc.) Additional songs are sung between games. 50 players maximum. Game lasts approximately 50-60 minutes. Christmas carol and "Love Song" versions also available! ($10 prize fee applies)
---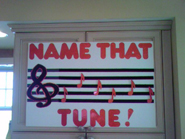 Christine plays the song and if the group can name the song and/or sing along, they get a point. If not, then Christine gets the point. (She never wins!) This version focuses more on remembering familiar songs and the enjoyment the music brings and not so much on the points. Very fun and interactive! Excellent for memory care units as it is a "no-fail activity." A team version is available upon request for high functioning residents. Game lasts 50-60 minutes.
Themes available
Original Version (familiar standards)
State Version (My Old Kentucky Home, California Here I Come etc.)
Color Version (Little Brown Jug, Blue Skies etc.)
Christmas Carol Version
NEW! School Songs (On Top of Old Smokey, Clementine, Daisy Bell, Home on the Range etc.)
And More!!
---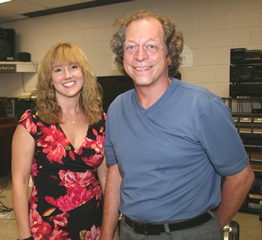 Sharing the Joy of Music is now offering a special piano/guitar duo program featuring Jack Prucella on the guitar and vocals. Christine and Jack both sing solo and in two-part harmony. The duo performs songs from (but not limited to) the 1930s-1960s, the era of music your residents will appreciate the most. As always, participation is encouraged! Great for family parties, happy hours and other special social gatherings. Program lasts 60 minutes (or longer, if needed) and is available anytime on Fridays, Saturdays and Sundays and some weekday mornings. Supplemental fee added. Call for rates.
---
This program focuses on songs and popular culture based on the month and date of the visit to your facility. It will include songs that were at the top of the charts during years that will be most memorable to your residents. We will also talk about radio and TV shows that were popular at that time as well as movies. Trivia questions and interesting facts will be shared and visuals (pictures and/or memorabilia) will be shown. This program is very interactive and encourages reminiscing and lots of singing. Excellent for dementia and memory care units. ($10 research/materials fee added)
Customized activities are available upon request
~~ Contact Christine for rates and fees. ~~