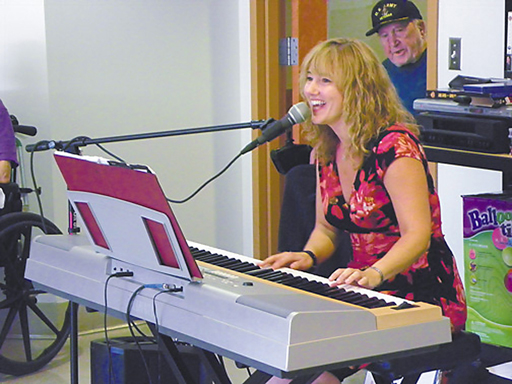 - photo by Jim Six
Music makes people happy. But music also has many other benefits as well. It stimulates memories and takes people back to major life events and happy times. It can be a soothing solitary activity or fun social event bringing people together. It affects our mood and can be a powerful form of expression. Music has been shown to improve anxiety, loneliness and depression in older Americans. It brings people to life, especially those suffering with Alzheimer's or dementia.
Christine Sheil provides piano and vocal entertainment and musical activities to Assisted Living, Nursing Home and Adult Day Care Facilities in New Jersey, Pennsylvania and Delaware. Performances include a wide variety of music from the 1930s-1960s – the era that seniors will remember most. Playing and singing old favorites, Christine interacts with her audience - talking about the music she plays, giving background on the composer or artists who recorded it. She also shares stories of everyday life and memories of childhood which gives the audience a chance to reminisce and interact.
Christine uses rhythm instruments, pictures and other props to encourage interaction. Large print sing-along sheets can be provided upon request. She speaks clearly and is easily understood.
Bring the joy of music to your care facility today! Call Christine for available dates and rates.