Click on the links below to read about Christine's programs and how they can benefit seniors at your facility.
August 15, 2011, Crest Haven Nursing Home

See pictures of Crest Haven Nursing Home's Family Picnic in Cape May Court House, NJ! Sharing the Joy of Music provided entertainment for the event (Piano/Guitar duo, Christine and Jack)
September 18, 2011, Gloucester County Times

You can read about Christine's program at the Vineland Veterans Home in this article as well as listen to an mp3 clip of Christine (and the audience) singing.
December 6, 2011, Washington Township Senior Living Holiday Concert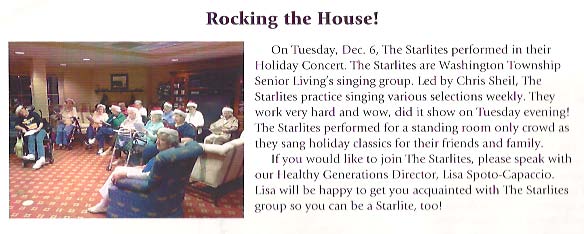 "The Starlites performed for a standing room only crowd as they sang holiday classics for their friends and family."